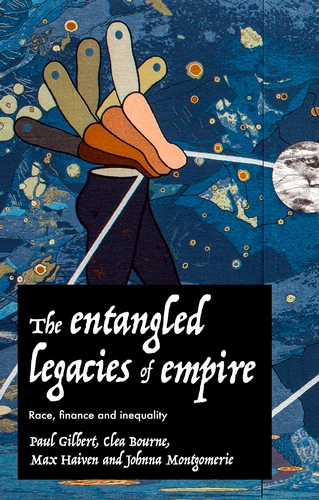 Published in 2023 by Manchester University Press, edited by Paul Gilbert, Clea Bourne, Max Haiven and Johnna Montgomerie: Entangled Legacies: Race, finance and inequality.
Info and purchase: https://manchesteruniversitypress.co.uk/9781526163431/
Open access: https://www.manchesteropenhive.com/display/9781526163455/9781526163455.xml
Over 25 contributors from around the world have prepared short, accessible essays that take a striking image as a starting point to explore how today's global financial structures are haunted by the ghosts of empire.

Written for newcomers and specialists alike, this unique collection traces the legacies of racism, colonialism and imperialism across a broad range of examples, from the City of London to the Australian outback, from Angola's railways to China's ghost cities, from the depths of the ocean to the ethereal world of data. It also tells stories of resistance and contestation, from Maori banks to radical muralists, from subtle gestures to mass uprisings.

With chapters on global commodities ranging from oil to clothing to the popular drink Milo, the authors in this collection take an interdisciplinary approach, melding political economy with cultural analysis, critical geography with historical acumen.

This book is both a fascinating journey for readers and an invaluable tool for teachers in many fields seeking to awaken students' curiosity about how the global capitalist economy emerged from and reproduces racialized inequalities.
Provisional table of contents
Introduction
Clea Bourne, Paul Gilbert, Max Haiven & Johnna Montgomerie
PART 1: BLOWOUTS
1
Pumpjacks, playgrounds & cheap lives
Imre Szeman
2
'Boom'
Tracy Lassiter
3
Spillcam
Alysse Kushinski
PART 2: CIRCULATIONS
4
Te Peeke o Aotearoa: Colonial and Decolonial Finance in Aotearoa New Zealand, 1860s-1890s
Catherine Cumming
5
Both sides of the coin: Miss Liberty and the construction of 'the New Native' on currency in Oregon's colonial period
Ashley Cordes
6
Milo
Syahirah Abdul Rahman
PART 3: BORDERS
7
'The trust will pursue debt through all means necessary'
Kathryn Medien
8
Hunger or indebtedness? Enforcing migrant destitution, racializing debt
Eve Dickson, Rachel Rosen, and Kehinde Sorinmade
9
Libre: Debt, discipline and humanitarian pretension
Christian Rossipal
PART 4: EMERGENCE
10
'Afro-pessmism' and emerging markets finance
Ilias Alami
11
Dreams of extractive development: reviving the Benguela Railway in central Angola
Jon Schubert
12
Spectral Cities and Rare Earth Mining in the North China Plain
Linsey Ly
PART 5: GESTURES
13
Italy, Libya and the EU: co-dependent systems and interweaving imperial interests at the Mediterranean border
Alessandra Ferrini
14
Racial capitalism and settler colonisation in Australia: Australian debts to Gurindji economies
Holly Eva Katherine Randell-Moon
15
Connected by a Blue Sweater: Ethical Narratives of Philanthrocapitalist Development
Zenia Kish
PART 6: PLAY
16
Eternal conflict
Oded Nir
17
I am your dividend
Ben Stork
PART 7: CONTROL
18
The shape of the stock exchange is shapelessness
Laura Kalba
19
Data centre seance: telepathic surveillance capitalism, psychic debt and colonialism
Jacquelene Drinkall
PART 8: IMAGINARIES
20
Mesoamérica Resiste: Staging the Battle over Mesoamerica – Capitalist Fantasies vs. Grassroots Liberation
Debbie Samaniego & Felix Mantz
21
Extractive scars & the lightness of finance
Maria Dyveke Styve
22
Imagined maps of racial capitalism
Gargi Bhattacharyya